Visitors and Locals Can Easily Find the Best Sushi in Orlando
Whether you're visiting or living in sunny Orlando, one of the best culinary attractions you'll find is A-Aki Sushi & Steakhouse. Sometimes you just have a craving for those tantalizingly tasty sushi rolls and the most tempting sauces created by artisan chefs. Combine this with delectable Japanese Fusion cuisine and the freshest sashimi, and you have a heavenly experience for your taste buds.
A-Aki Sushi is proud to be one of the best sushi restaurants in Orlando. Locals and tourists alike know they're easy to find as well, in front of the Florida Mall on Sand Lake Road. With a perfect locale so close to all the famous theme parks, there's no need to travel far for the best Orlando sushi.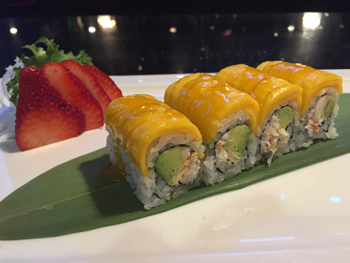 Tasty Temptations Delight the Palate for Orlando Sushi
Sushi rolls begin with the largest, most delectable pieces of fish. Then the freshest vegetables are added like crunchy cucumber, avocado and seaweed salad. Different flavored sauces add that zip you love in a great sushi roll. Choose from spicy mayo, ono or eel sauce for delightfully different taste experiences.
One of the most popular sushi rolls at A-Aki Sushi & Steakhouse is the Crunch Seaweed Roll, crafted from crab meat, spicy mayo, delightful seaweed salad and tempura crunch. Another sushi roll favorite is the Mexican Roll, featuring tempura shrimp and spicy cooked shrimp, along with crisp lettuce. So many choices give you many reasons to return often!
Creative Menu Makes This The Best Sushi Orlando Can Find
Sushi Orlando loves is so easy to find and there are many choices at A-Aki Sushi. Favorite taste temptations include the Tempura Shrimp Roll, Smoked Salmon Roll, King Crab Roll, Spider Roll made with fried soft shell crab, Tempura Chicken Roll and a delicious California Roll created with crab, avocado and cucumber.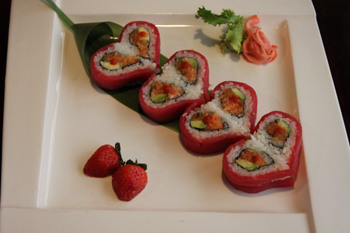 Along with signature rolls, diners find perfectly cooked steaks, grilled seafood, sashimi offerings and hibachi dining. Make your meal perfect by pairing it with a choice from a tempting selection of wines, specialty cocktails and beer. Commitment to continually offer the best sushi in Orlando is the goal of A-Aki Sushi.
Multiple Awards for Best Sushi in Orlando are Well Deserved
A-Aki Sushi & Steakhouse has received multiple awards for the best sushi Orlando can find. They were awarded the Best Local Sushi Restaurant by the Orlando Sentinel in the 18th Annual Foodie Awards. They also proudly received an Orlando sushi award by Orlando's Business Journal's Reader's Choice.
Excellent food is just the beginning. A-Aki Sushi & Steakhouse also features a soothing ambiance, perfect for relaxing after busy days of sightseeing or working. They also have a world-class lounge and some of the friendliest service to be found among sushi restaurants in Orlando.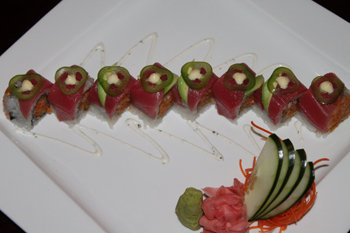 All You Can Eat Sushi Deal Is Perfect for the Undecided
Satisfying your strongest sushi cravings in the most gratifying way is always the goal of A-Aki Sushi. Striving to always be the best, chefs take pride in their culinary creativity combined with artful presentation. Try the all-you-can-eat-sushi for only $19.95 for lunch or dinner.
Take a look at the eye-catching sushi offerings and you'll soon discover why A-Aki sushi has received so many awards and accolades. If you're struggling to make a decision, try the all-you-can-eat sushi special to experience a range of tempting delectable sushi. You'll be happy with your choice!
Make reservations today at A-Aki Sushi & Steakhouse. Call 407-888-9545.